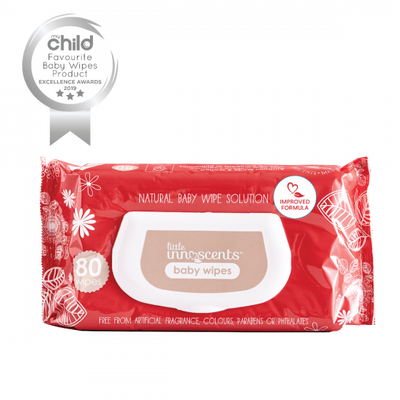 Little Innoscents Organic Baby Wipe 80pk
Little Innoscents
$16.00
or 4 interest free payments of $4.00 with
learn more
Little Innoscents Organic Baby Wipe 80pk

Little Innoscents wipes offer a natural wipe solution that enriches and soothes. Free of alcohol, artificial fragrance, colours, parabens or phthalates you can rest assured that even those with sensitive skin will benefit from this pure and natural formulation. Our thick and absorbent ultra-soft wipes work a treat and are intended for multi-use. Blended with plant based ingredients and infused with soothing aloe vera and vitamin E they are simply an easy choice for your babies' wellbeing. 

Our wipes can be used for just about everything; designed to cleanse soothe and care they are effective on wet bottoms, sticky fingers and toys. Can be used to wipe down faces and dummies and even work a treat for stubborn make up residue and impurities.
Little Innoscents products are Australian made with 100% Natural, Pure and Organic ingredients. Completely free from Toxic Chemicals, Parabens and all other little hidden nasties. 

Our naturally pure and organic baby skincare products are based on aromatherapy ingredients which means they can used on delicate and sensitive skin and provide essential skincare for babies and infants. All of our baby skincare products can be used to relieve young ones from rashes including eczema, psoriasis, cradle cap, nappy rash and more…
Ingredients: Water (Aqua), Glycerine, Glyceryl Caprylate, Potassium Sorbate (Preservative), Coco Glucoside (Conditioning Surfactant), Aloe Vera (Aloe Barbadensis Leaf Juice), Tocopherol (Vitamin E), Citric Acid.
Paraben Free, SLS Free, Non GMO, Cruelty Free, Vegan, From Responsible Sources
SKU: 10000-42