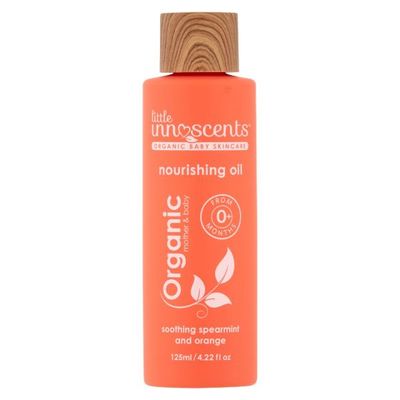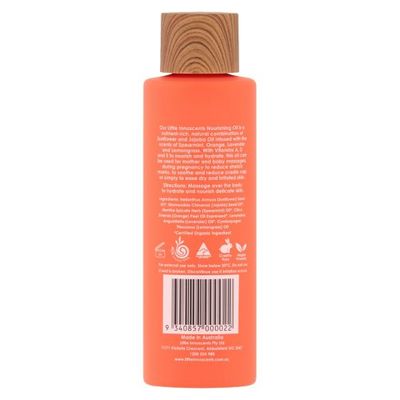 Little Innoscents Organic Massage Oil 125ml
Little Innoscents
$26.00
or 4 interest free payments of $6.50 with
learn more
Little Innoscents Organic Massage Oil 125ml

The beautiful bonding experience between mum and baby can be made even sweeter with the Little Innocents Organic baby massage oil. This intensely hydrating oil is made of nutrient rich sunflower and jojoba carrier oils and therapeutic essential oils of spearmint, lavender, lemongrass and sweet orange. It has a delicious sweet candy scent and is perfect for all skin types - even grown ups!
Another treat is its natural ability to treat childhood skin conditions like psoriasis, dermatitis, and cradle cap. Free from nasty petroleum oils.  Deeply hydrating and ideal for sensitive skin, the Little Innocents massage oil is as luxurious as it is therapeutic.
Little Innoscents products are Australian made with 100% Natural, Pure and Organic ingredients. Completely free from Toxic Chemicals, Parabens and all other little hidden nasties. 

Our naturally pure and organic baby skincare products are based on aromatherapy ingredients which means they can used on delicate and sensitive skin and provide essential skincare for babies and infants. All of our baby skincare products can be used to relieve young ones from rashes including eczema, psoriasis, cradle cap, nappy rash and more… 

Little Innoscents believe it is so important for both children and adults to be bathing and treating their skin with organic and natural products. Before you make a purchase look for the 'certified organic' logo to ensure the health of your family.
Ingredients: Sunflower Oil (Helianthus annuus)*, Jojoba oil (Simmondsia Chinensis)*, Spearmint Oil (Mentha viridis), Sweet Orange Oil (Citrus aurantiumdulcis)*, Lavender Oil (Lavandulaangustifolia), Lemongrass Oil (Cymbopogon citratus). *Certified Organic by ACO
Australian Certified Organic, Paraben Free, SLS Free, Non GMO, Cruelty Free, Gluten Free, Vegan, No Preservatives
SKU: 10000-41