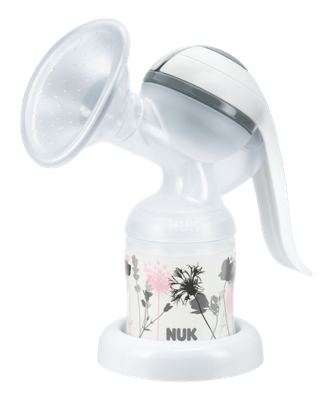 NUK Manual Breast Pump
NUK
$109.00
or 4 interest free payments of $27.25 with
learn more
NUK Manual Breast Pump
Often the lives of modern parents require flexibility and mobility – and then breastfeeding is not always possible. However, that does not mean that your baby has to miss out on your precious breast milk! Expressing your milk and then bottle feeding it to your baby can be a useful alternative. The NUK Jolie Manual Breast Pump was developed together with breastfeeding experts and based on the most recent medical findings, to make expressing your milk as effortless, gentle and efficient as possible.
Efficient: Thanks to innovative technology and thought-out functionality, the NUK Jolie has a top expressing action. The special soft textured surface of the silicone cushion stimulates the milk flow.
Gentle: The soft silicone cushion fits snugly against the breast and feels pleasant on the skin.
Effortless: The lever has an ergonomic shape and a very smooth action. The suction strength can also be regulated with the lever: the more it is pressed, the stronger the suction.
Practical: All the parts can be easily taken apart and reassembled for cleaning.
SKU: 10000-129