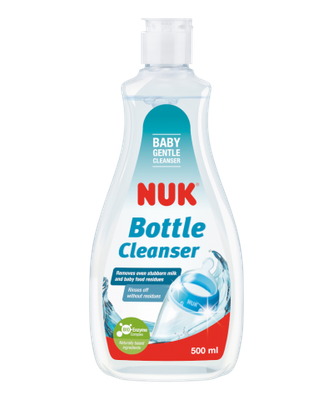 NUK Bottle Cleanser 500ml
NUK
$12.99
or 4 interest free payments of $3.25 with
learn more
NUK Bottle Cleanser 500ml
NUK Bottle Cleanser: removes even stubborn residues of milk and puree - leaving no traces.
Obvious, isn't it... A bottle cleanser from NUK? Naturally! Because we know what parents need, we have developed the NUK Bottle Cleanser that cleans effectively and is completely safe for your child. After washing up, everything is clean and there are no traces of bottle cleanser. The NUK Bottle Cleanser will win you over with no fragrance. With no colorants. But with a whole lot of "performance". PH-neutral and hypoallergenic. Because we rely on the strength of nature. With enzymes that are particularly effective at dissolving milk, juice and, thanks to the new formula, even puree residue.
The result is our best NUK Bottle Cleanser ever. With only safe ingredients, it cleans effectively and completely. Therefore, it is ideal for cleaning baby tableware such as baby bottles and teats, cups, plates, but also breastfeeding accessories as well as washable toys.
SKU: 10000-139