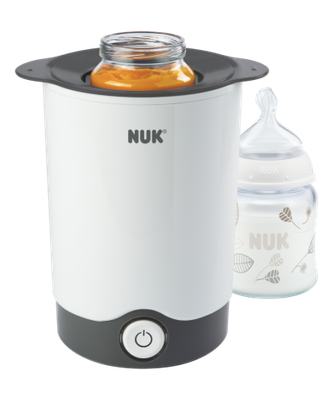 NUK Thermo Express Bottle Warmer
NUK
$89.99
or 4 interest free payments of $22.50 with
learn more
NUK Thermo Express Bottle Warmer
Why a Bottle Warmer?: A bottle warmer is one of many appliances which help to make a parent's life easier, as it brings the milk and, later, also the baby food to the right temperature. New parents know the problem: repeatedly checking the thermometer – is the bottle now too hot or too cold? What is the ideal temperature for the milk? With the NUK Thermo Express Bottle Warmer these are all things of the past. In just 90 seconds* the milk will be gently warmed to the right temperature and all the important nutrients and vitamins are retained.
How do you use the Bottle Warmer?: Using the NUK Thermo Express Bottle Warmer is quite simple: fill the right amount of water for the bottle or glass jar into the appliance, then, with the help of the basket put the baby food into the bottle warmer. One push of the button and the appliance warms baby food to the right temperature, quickly and gently with steam in just 90 seconds*. The integrated light indicates that it is warming. As soon as the filled quantity of water has evaporated, the appliance automatically switches itself off. The NUK Thermo Express Bottle Warmer is suitable for all standard baby glass jars and bottles.
Safety and easy to clean: The NUK Thermo Express Bottle Warmer is both space-saving and light while offering maximal safety. It has overheating protection and automatically switches off after warming up –this helps protects the environment at the same time. The separate basket serves as a glass jar holder, with which baby bottles and baby food jars can easily be put into the appliance and taken out again, making the bottle warmer easy to clean.
Please note:
This appliance is not suitable for PE bottles or breast milk bags.
Technical Data: 220-240 Volt, 500 Watt.
The NUK Thermo Express Bottle Warmer should be regularly descaled to ensure that it functions properly.
Please make sure that the water level does not go below 11ml, otherwise the baby food will not be properly warmed.
SKU: 10000-144