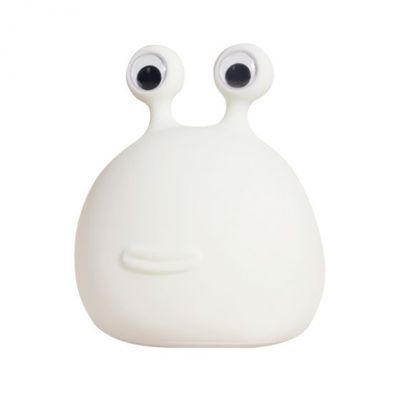 Eggy & Friends Momo Moon Night Light
Eggy & Friends
$60.00
or 4 interest free payments of $15.00 with
learn more
Eggy & Friends Momo Moon Night Light
This adorable night light boasts a minimalist design, featuring a soft silicone blob with two adorable eyes that exude a soft, calming glow. Embrace personalized illumination with its dimmable functionality, effortlessly adjusting light levels to match your desired ambiance. Choose from a palette of seven captivating colors to infuse any space with a soothing hue that resonates with your mood.
Dimmable: Thanks to the possibility of dimming, MOMO MOON is always just as bright as you need it to be: regardless of whether you want to read your children from your favorite book, give your baby a bottle at night or find the pacifier again. A very gentle snooze light can be set to help you fall asleep. For dimming, simply hold the eyes together longer. This allows you to playfully find the optimum brightness to rock your child to sleep, breastfeed or change diapers.
Colour Change: Momo Moon becomes a colorful night light friend. It is possible to switch between 7 different colors intuitively by touch.
Specifications:
Sleep-friendly, comfortable light
Easy operation
BPA free
Fast charging in just 2 hours
Long battery life
Dimmable by squeezing the eyes
Including 1x DC-USB charging cable (without adapter)
Battery life: bright 7h, dimmed 80h
Dimensions: 10.2 x 12.5 x 128cm
SKU: 10000-161